honest and friendly service.
This isn't just a job, it's our life. We wake up in the morning focused on your goals and eager to make your life easier. Bottom line, we're here to help guide you to the best result… not just the result that's most convenient.
Property
Search
GO-IT-ALONE
Flipping through pictures of possible homes might not be so bad, but researching local trends, market values and other vital info can be daunting.
BUYING WITH US
A curated shopping experience with recommendations specifically tailored to meet or excess your expectations.
Time
Commitment
GO-IT-ALONE
Spend hundreds of hours online searching for potential properties.
BUYING WITH US
Curated house-hunting process & only invest your attention in properties that actually meet your requirements.
Industry
Experience
GO-IT-ALONE
Rely only on your own knowledge of the market & invest significant time in gathering information from all over.
BUYING WITH US
Work with an agent who has knowledge and remarkable experience in the local market, with countless awards, thousands of transactions, & decades of experience.
Local
Experience
GO-IT-ALONE
Unless you have some sort of insider knowledge, or crystal ball, you're not gonna know as much as you should about certain neighborhoods. To learn these things, you're gonna have to do some internetting, hop on Yelp or ask around a bit.
BUYING WITH US
With years of experience under our belt, we are your true local expert. We can tell you all about the school districts, zoning codes, and where to find everything from the hottest coffee to the coldest ice cream.
Negotiation
Experience
GO-IT-ALONE
Even if you're a skilled poker player and have a black-belt in negotiation, it's still important to do your research. You'll be working directly with the Selling Agent & trust that you're not being taken advantage of throughout negotiations & closing.
BUYING WITH US
Thanks to our vast knowledge of market conditions and comp sales, we'll be able to help you drum up a competitive offer at the best possible price. We fight to protect your interests.
How to buy like a pro!
If you're in the market for a new home, check out these 11 tips on how to find the best possible real estate deals in your area.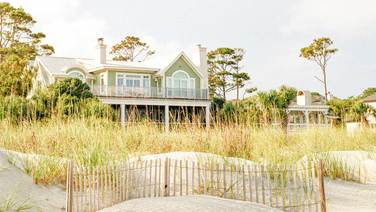 Free Buyer's Guide
how to buy like a pro
Comprehensive Real Estate
Buyer's Guide
The Charleston Area & Beaches
Popular Communities

"We listed and ultimately sold our home with Ulf as our realtor! His professionalism, his knowledge about the housing market, his compassion(understanding us and talking us through the "what if's"), very punctual, communicated well, attention to details, and along with his patience all made our selli
…
ng experience outstanding!There are several Realtors sending us flyers/advertisements in the mail and some we even know pretty well. However, we have known Ulf and his family for many years. First as our neighbor. (We couldn't have asked for better neighbors-ever!) We were so blessed knowing them through those years and always knew if we ever needed a Realtor, he would be the one to choose!We would see each other on occasion at the Post Office and briefly catch up on our family's' well being.Ulf has an ability to work well with his clients, having the knowledge locally and a large network, has worked out very well for his professional career.We appreciate EVERYTHING he did along our way making our experience working with him a wonderful experience. We feel he went above and beyond in several ways, but especially when it came time to understanding the forms to make it all happen for us and knowing the precise time to adjust our asking price , etc.We highly recommended Ulf!!!!Thank you so very much Ulf for all you did to sell our home. Blessings…"

"Ulf is a true pro. He makes it appear to be so easy and so smooth. He knows how to quietly and calmly help the client with the normal snags . He helped us in selling our Folly Beach condo in a quick and easy transaction. He has our highest recommendation.ThanksTom & Sheila Williams"

"We recently sold a house and were looking for a new house in Charleston and used Ulf as our realtor. After meeting him by chance via a zillow listing, we immediately knew that this was who we wanted to work with. He is professional, honest, and to-the-point. He will not tell you something just becau
…
se it is what you want to hear. He has a solid grasp on the market and uses that to guide you, whether you are buying or selling. He communicates in a timely manner and is willing to help in any way. He made the process of selling feel seamless. We recommend him with no hesitation!"

"Ulf was great to have as an agent. He let us know what was expected at each point and was very knowledgeable about the process. He helped us out greatly when we were in a jam right before closing. He is very personable and easy to get along with. He was our agent when we bought our home and again
…
when we sold it 7 years later!"

"As someone who has worked with quite a few realtors in the past both buying and selling, I have to say Ulf is the best realtor I've ever worked with. Ulf's responsiveness makes it easy to communicate, and he knows Folly Beach and the surrounding area well. Ulf is a professional, and if I ever buy o
…
r sell another property in the area I will absolutely work with him again. Great experience all around."

"Ulf helped us with three real estate transactions and all went very smooth. He is quick to respond to questions and has great negotiation skills. I would highly recommend him for any Folly Beach/James Island real estate need."

"Ulf was our listing agent on the house we were selling, and purchasing agent on another house we wanted to buy. His persistence and creativity enabled us to complete the two transactions under some difficult situations. I don't think another realtor could have pulled the two deals together as he did
…
. Great job Ulf, and thank you so much!"

"Beyond being a nice guy, Ulf is a skilled real estate professional. We contacted him to introduce ourselves and what we wanted. He asked us questions which helped him identify what we were looking for and narrowed down our listed of places to see. He showed us numerous properties on Folly Beach all
…
being in our price range, except one which we liked, but was a bit more than we wanted to pay. Ulf actually talked us out of it by running some cost numbers and showing us another property that actually fit our needs better. I would highly recommend Ulf to anyone, and everyone, who may be looking to purchase property in the Folly Beach area."

"Ulf is by far the best real estate agent we have ever had the pleasure to work with. His local knowledge about Folly Beach is second to none, and he had an answer for every one of our questions, for which we had many as we are new to the area. He is always incredibly responsive and was so throughout
…
the entire home buying process. He went out of his way to negotiate a few extra things for the house that we weren't expecting but really appreciated. What really blew us away was that after we purchased the house he still kept in contact with us and offered to stop by the house to ensure local contractors could access the property when we weren't there and stopped by after to make sure the house was all set and locked up. He really makes us feel like a part of the local community and went above and beyond all expectations that we had. I could not recommend him more!"

"Flawless experience. Very professional and a genuinely nice person. 110% satisfied. I could not imagine not working with Ulf again should I have the need."
© Zillow, Inc., 2006-2016. Use is subject to Terms of Use What's a Zestimate?